What's worse than being woken up at an ungodly hour from the robotic sound of telemarketers on your phone? You've probably thought to yourself, "Why am I getting so many spam calls on my cell phone?!" You're definitely not alone.
The growth of mobile technology and cell phones has made it increasingly easy for telemarketers, scammers, debt collectors, and even romantic schemers to get their hands on your phone number.
From harmless marketing pitches to serious attempts of identity theft and scams, these irritating spammers can be a real pain in the neck! Here are the five reasons you are getting so many spam calls and how to stop them.
Telemarketing Calls with RoboDialers
Now one of the biggest reasons we get those pesky phone calls is robocalling, where automated software dials hundreds of random numbers per hour in order to reach potential customers. Billions of cold calls are placed each year by marketers, and this is especially true if you live in a bustling city!
Companies usually purchase phone number lists, which can be outdated, leading to erroneous calls. While some robocalling is legal and used for legit marketing purposes, other calls are designed to trick people into giving away personal information or credit card numbers. Phone companies have made progress little progress to block spam calls and protect consumers, so it's best to be cautious when picking up an unrecognized call.
What's more, you can end up receiving robocalls even if your number is listed on the National Do Not Call Registry. And it can be a real nuisance and disrupt your daily peace and quiet!
Scam Calls
Have you ever received a spam call where a person claims to be from "Microsoft Support" or some other company? This may be coming from the scrupulous crowd of criminals who have not much to do than annoy you.
These fraudsters can be convincing, but you should never give out personal or confidential info over the phone to someone who has called you randomly. The best way to stay safe is not to answer calls from any unidentified numbers that appear on your phone.
This type of call can be especially malicious; if the caller has requested sensitive information, you may want to be prepared to report a scam.
Loans and Debt Collectors
Have you ever had any debt that's been left unpaid? Well, that's attractive for debt collectors who may start calling you incessantly, offering loans, or trying to collect the money you owe. Debt collection agents can sometimes resort to aggressive correspondence, and this is where it starts becoming really annoying.
If a creditor calls you during non-business hours or threatens you, this could be an attempt at harassment, which is illegal. Your best bet is to ensure your bank has all the up-to-date information regarding your debt and register with them to try and get your number removed from any marketing consent.
Be extra vigilant if you have been a user of dating websites because an old profile may still be active, and callers could see your phone number. When we join an online dating site, we often fill out surveys that may ask us to provide our mobile phone numbers.
Little do we know that this can give anyone permission to contact us without prior warning. Therefore it's key to think twice and avoid offering your digits until you feel comfortable doing so.
Lucky Draw
What about those lucky draws that you can sometimes find in random stores or gas stations? Sometimes we are too curious and fill up their forms with our contact details, only to find out later on that they blatantly sold them to marketers to target us.
Next time you take part in a lucky draw, double-check their terms and conditions to see what you are actually giving up.
For this type of situation, it's always best to ask questions first before signing off on the consent. If you feel positive about the terms, then go ahead and give it a shot but best be conscious of where your information is going.
How can I stop getting spam calls on my cell phone?
It's easy to silence unknown callers, report spam calls, or just block calls from numbers you've previously identified, but you need to put a full stop to them.
The best way to protect yourself from the insanity of those spammers is to register a telephone number on the National Do Not Call List free of charge. All you have to do is dial 1-888-381-2222 with the number you wish to register.
Additionally, make sure to go online and register for the national do-not-call list on donotcall.gov to get the extra layer of protection. While it can still take up to 30 days to see a noticeable reduction in those unwanted calls, after that, the results should be almost instantaneous.
This will help protect you since companies must comply with the law or risk hefty fines, however, the occasional scam calls may still get through. If someone suspiciously calls you, it's always a good idea to hang up or say "no thank you" loudly.
This will at least brief them, but it may still not be enough to stop spam calls or sales calls altogether. Luckily, there are a few ways to identify the unknown caller that keeps calling you.
How to Identify Unknown Callers?
In this day and age, the internet is a great resource for pretty much anything. You can use reverse number lookups to identify those unknown spam callers by either entering their number into any online search engine or using a call blocker phone app.
There are lots of these services available that can make it really easy to block and unmask annoying calls to help you figure out who's trying to reach you in a discreet way while also protecting your privacy.
While not all of these call filter and caller ID apps or call-blocking services work well to block unwanted calls, and some may even require a subscription, there are plenty of trustworthy ones, such as Number Tracker Pro, that can help you identify an anonymous incoming call without putting your data at risk.
Let's take a quick look at how Number Tracker works and how it can help protect you and find out who's using that unknown number calling you.
Number Tracker Pro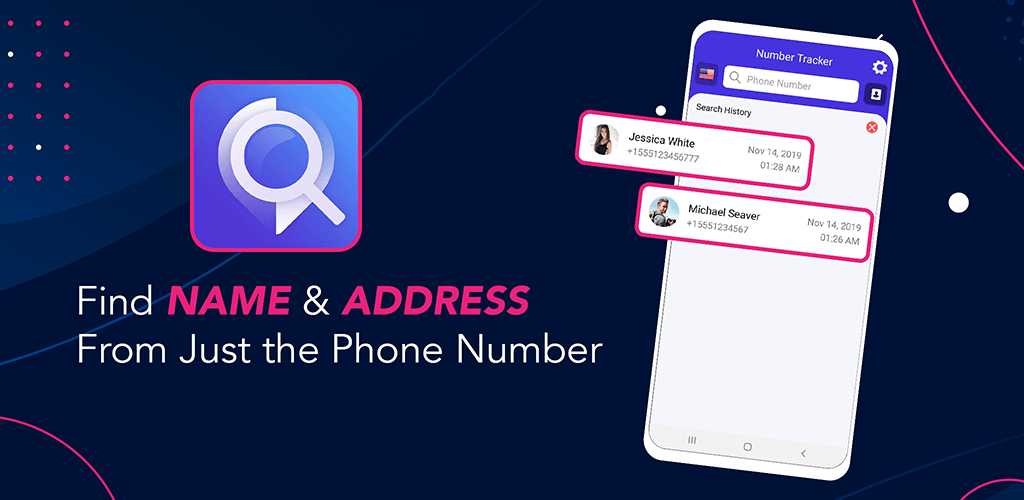 Number Tracker Pro is a people search engine that scours millions of public records in order to give you access to information about the caller. From the full name to the address or any other contact information, it's all there.
This way, you can easily verify the identity of any unknown caller. The service also provides key data such as age and birth records, criminal background checks, and other details like social media profiles.
As a bonus, Number TrackerPro offers a lot of other cool features, such as finding out the location of the target phone, tracking down any lost or missing mobile phone numbers, and more. Additionally, all of this info can be accessed easily via their secure customer portal, where your data is safe at the highest encryption levels.
It doesn't matter if you use an iPhone or an Android phone, it works better than any other reverse phone lookup service around.
Let's take a closer look at how Number Tracker Pro works:
Go to Number Tracker Pro and register for an account.
Once logged in, click on "Search" in the navigation bar and enter the phone number you want to search for
The system will search for available information in the public records and will then create a comprehensive report about the caller
Using this data, you can identify the person who's calling you and can even report scam calls to relevant authorities.
Reverse Phone Lookup
Get Owner's Name, Address & More!
It's really that simple and completely safe, so you have nothing to lose by checking it out. Although it may not completely stop those annoying calls, it sure can help you identify them and protect yourself from scammers.
Number Tracker Pro uses a credit-based system, so you will need to purchase credits in order to use the service. This credit-based system brings a lot of advantages, as it's much more flexible and provides you with precisely the services you need. While this isn't free, it's still very affordable compared to other services in the market. The benefits you get are definitely worth the price.
Conclusion
Getting calls from those random numbers with no prior warning can be quite an annoyance, and it's really easy to let yourself get overwhelmed. Remember that you have the power to protect yourself against these malicious incoming calls, by not giving out personal information on the phone and by registering your number in a do-not-call list.
You can also use Number Tracker Pro to identify unknown callers accurately, plus you get a bunch of other helpful features. That way, you can make sure to stay one step ahead of the spammers and scammers who are always trying to take advantage of unsuspecting people.
So don't hesitate, try Number Tracker Pro today and get back the peace of mind you deserve. You won't regret it!