Getting a phone call from an unknown number can be a little daunting, as you never know whether it's likely to be a scam or not. Many people today want to figure out who is calling them without having to pick up the phone and answer, so they turn to online services to get help.
NumLooker.com is often used for this reason, but what if we told you that you've got another option, and it's a better one? In this review, we'll explore NumLooker.com's offerings and reveal why Number Tracker Pro is a superior solution for your phone number lookup needs. Let's make a start!
NumLooker: A Closer Look
NumLooker is a viable option for looking up phone numbers, but it only acts as an intermediary. It forwards the searches that are made on its site to other number lookup services, using the information that they provide to give you feedback on your query.
That instantly makes it less attractive than some of the other options, because it's not directly performing the lookup itself, and its results are going to be limited to what the other sources give it. It isn't using its databases, and can't provide such accurate information.
There are some further drawbacks associated with NumLooker.com too. One of the most frustrating things is that the service can only be used in the US, so if you're not currently in the US, you'll have to use a VPN to fool it.
Furthermore, there's no guarantee that the information on NumLooker.com will be accurate because it depends on other websites so heavily. That means sometimes, you'll be given incorrect data about a phone number that you've searched, which could cause problems for you!
That's why it's so important to use a direct service because this will give you much better and more accurate results. If the service isn't just dependent on other sources, it can give you more information, and it's more likely to be correct.
Number Tracker Pro: The Ultimate Phone Number Lookup Solution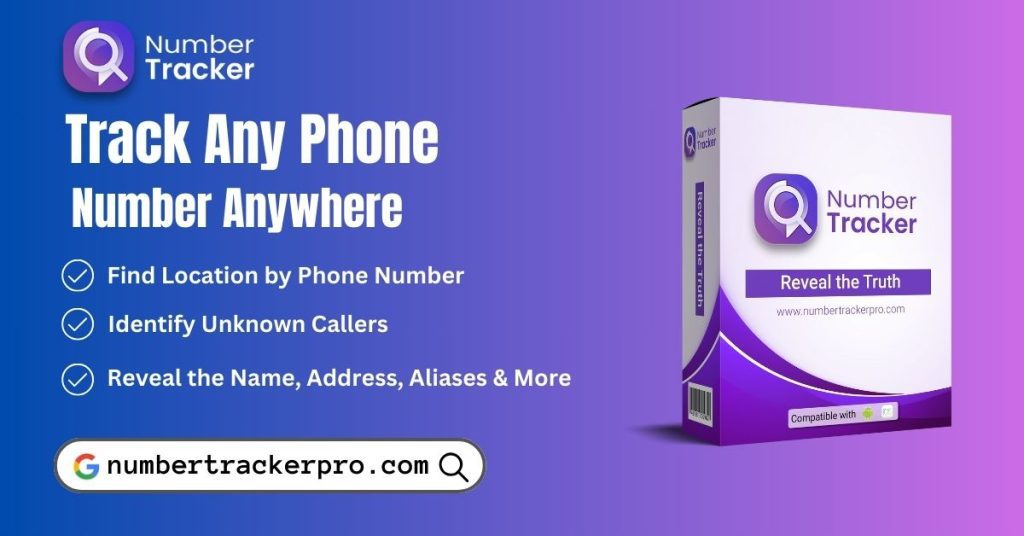 Number Tracker Pro is a fantastic alternative if you want a different phone number lookup tool. It is a tool of choice for many people, so let's find out more about what makes it so great!
Firstly, it searches directly, tapping into a range of different databases and records to generate the information that you have requested. That means it often has more information, and that information is more accurate.
It's also enormously user-friendly because the interface has been designed with practicality and ease-of-use in mind. You can look up numbers very quickly and easily, so even if you're in a hurry, you should have time to check out a number.
You can get a lot of information from it when you look up a number, including things like the carrier that supports the phone number. You can also find out what type of number it is, and what city and state it belongs to.
You can access some particularly useful details from Number Tracker Pro if you sign up for the service. Things like email addresses, names, dates of birth, and possibly even relatives will be at your fingertips. The amount of information displayed will vary depending on the number you're researching, but there are lots available!
Feature Comparison: NumLooker vs. Number Tracker Pro
The user interfaces of both sites are similar, with a large search box on the first page of the website, allowing you to very quickly look up a number. However, NumLooker.com will not load for anybody outside of the US, so remember to use a VPN if you aren't located here.
Both services can provide pretty accurate information, although in both cases, it's worth being aware that there's no guarantee it's 100% accurate. Number Tracker Pro is designed to offer maximum accuracy, using various databases to cross-reference the data it provides.
It also includes carrier lookup verification, which confirms which carrier is associated with the phone number. This provides an extra layer of accuracy and maximizes the chance of the details being up to date.
Number Tracker Pro also lets you search internationally for landline numbers and cell phone numbers. NumLooker.com only permits you to search for numbers within the US. Both companies do allow you to make confidential searches, so nobody knows you're looking up their number.
Number Tracker Pro has also done everything it can to deal with privacy concerns and ensure that data is kept secure for all the different parties involved. They have a detailed privacy policy document that will help you understand how your data will be used and explain how the company complies with privacy laws.
Cost and Value for Money
NumLooker.com is an affiliate website and the cost varies with the underlying service it uses. Mostly from $39.95 to $129.
Number Tracker Pro gives you a lot of additional information, but has a small cost. You can purchase 10 credits for $9.95, which is just $1 per search. Alternatively, you can purchase 50 credits for $29.95, which makes each search just $0.52.
You'll get a lot of value from that money because it tells you so much about the number you search. You can search all networks, use the tracker internationally, and stay completely anonymous. You can also cancel your plan at any time if you no longer need it.
Customer Support and Help Center
There isn't a huge amount of customer support for NumLooker.com. You can find a "Contact Us" button at the very bottom of the website, and this provides an email address. However, there's no phone number available, and the FAQs are fairly limited.
Number Tracker Pro has a "Contact Us" form available on the website to get you directly in touch with customer services, and some pretty extensive FAQs on the site to help you out. If there's anything you need to know, you can ask.
Users generally like both services and find them easy to use. If you check out the user experiences, you'll see that quite a few people have rated Number Tracker Pro highly for a variety of different uses and that it offers great customer service.
FAQs
1. What is NumLooker.com, and how does it work?
NumLooker.com is an affiliate website, and when you send a phone number lookup request, it simply forwards this to other services, such as Spokeo and BeenVerified. It's not performing the lookup itself, even if it appears to be. Instead, it's a middleman, which may mean you're not getting such a good service.
2. Why should I consider an alternative to NumLooker.com?
You will often get more accurate results if you use a direct phone number lookup service like Number Tracker Pro. You may also get more privacy because your request isn't being transferred across multiple companies. The user experience is often better too, because the tool is working independently of other services.
3. Is Number Tracker Pro easy to use?
Number Tracker Pro is very easy to use, yes. It's well-recognized for its user-friendly interface and straightforward lookup process. You'll find the search box readily available as soon as you open it, and you just have to enter the number. You don't need to be technically proficient to use Number Tracker Pro to great success!
4. How accurate is the information provided by Number Tracker Pro?
Number Tracker Pro provides excellent accuracy because it draws on multiple databases when it comes to delivering results. That means there's a high chance of the information you're looking at being reliable, and you are very likely to get the data you want when you research a phone number.
5. Does Number Tracker Pro cover international numbers?
Yes, this is another advantage that Number Tracker Pro offers over other lookup options. It covers international phone numbers and allows you to complete searches even if you aren't in the US. That makes it a vastly preferable tool for handling all kinds of lookups; it's more versatile and therefore more useful.
Conclusion: Number Tracker Pro – The Clear Choice
There's very little competition when it comes to assessing Number Tracker Pro's standing against competitors like NumLooker.com. NumLooker.com is only using other websites to search, acting as a middleman, rather than letting you search directly. It can also only be used if you're in the USA, making it a much more limited service.
Number Tracker Pro is superior for these reasons and more. It gives users a much more reliable and accurate experience, and it's hassle-free. NumLooker.com may connect you with other services, but it's not providing the results itself, and it is inherently limited and uncertain because of this.
For a more comprehensive and direct solution, Number Tracker Pro is the very obvious choice. It will ensure that you get accurate results, it will protect your privacy, and it offers great value for money. Don't settle for intermediaries—opt for the direct, trusted choice in Number Tracker Pro!
Reverse Phone Lookup
Get the Owner's Name, Address & More!