Discovering the true identity of unknown email senders has become increasingly important in today's digital age. If you've ever received an email from an unfamiliar address and wondered who it belongs to, you're not alone.
In this blog post, we will delve into the world of email address owner verification and explore effective methods to uncover the real person or organization behind those mysterious emails. Get ready to unveil the truth and gain peace of mind with powerful tools and techniques to check email address owners.
Method 1: Look Up Sender's IP Address
Email headers can give you some very valuable information, particularly relating to the sender's IP address. Different email programs will have different options, so let's look at a few of the major ones.
In Outlook, to access the header, follow these steps:
Open the email and look for three horizontal dots at the top right of the email (not at the top of the page, where you will also see three dots).
Once you have located the correct dots, click on them and a drop-down menu will appear. Here, there is a "view" option, and when you click on this, you will see "view message source." This button will bring up a window with lots of code on it.
Press "Ctrl + F" to bring up the "search" function. Type "Received: from" into the search box, and it should bring up an IP address. This usually appears as a string of sets of 4 numbers with periods separating them, although letters can appear as well. The address will often appear in brackets somewhere near the top.
In Gmail, it's a somewhat similar process, but follow this setup: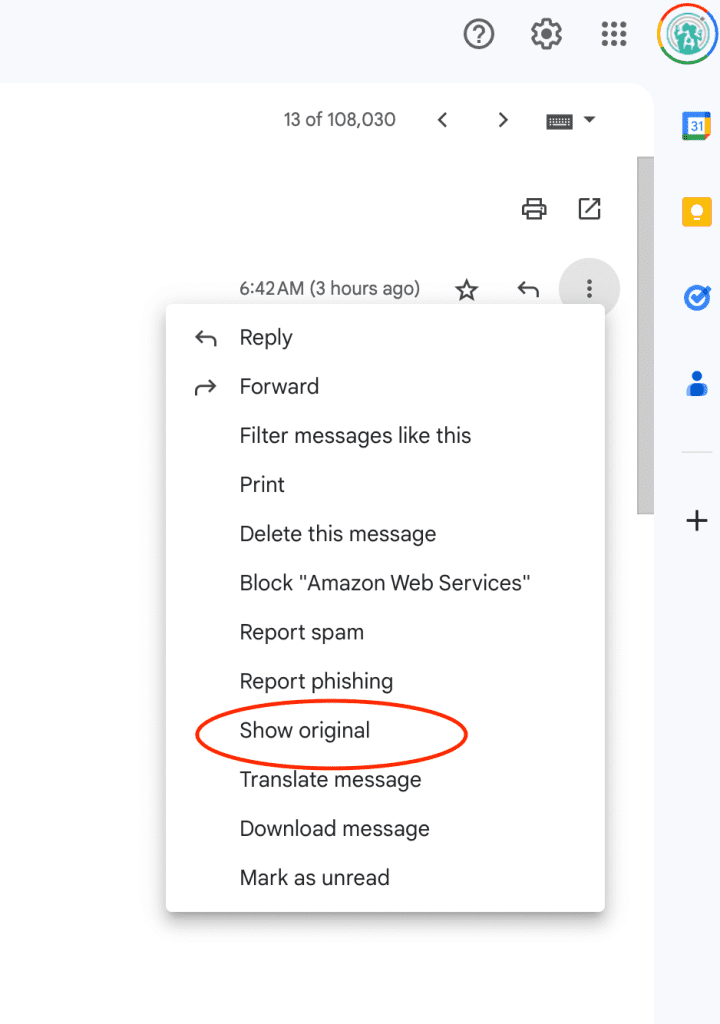 Open the email and again, look for the three dots near the top. These will be vertical, rather than horizontal.
In the drop-down menu, click on "Show original."
You'll get some plain text, and you should use the "Ctrl + F" function to look for the word "Received." Look for the set of numbers separated by periods, and you have your IP address.
Yahoo Mail has a slightly different setup again. Follow these steps:
Open the email that you would like to find the IP address for.
Click on the three horizontal dots in the top right-hand corner and click "View Raw Message." This will open the text information.
Use the "Ctrl + F" function to bring up the search bar, and search for "originating." You're looking for the phrase "X-Originating-IP," but this should bring it up. Check the IP address that appears next to this phrase, and you'll have what you need.
Once you have obtained the IP address, you need to copy it into a lookup tool of some sort.
There are lots of online IP lookup tools that work well and will give you information about the internet service provider associated with the address, and the geographic location of the individual. 
Tools like IP-Tracker.org and IP-Lookup.net are good options. They are easy to use and don't cost anything, which makes them a very attractive option for getting more information.
You can simply paste the IP address from the box in the email into the search bar on the website, and find out the approximate location of the IP. It may also give you information about the organization that owns the IP address, plus some other details if they are available and relevant.
It should be noted that although this is useful, IP address locators are not always accurate, and they depend upon quite complicated systems. It's almost always accurate about which country the user is in, but the accuracy dwindles after this point, and you may not get the exact city or area when you look up an IP address.
With that in mind, let's look at some other methods!
Method 2: Reverse Email Lookup with CocoLookup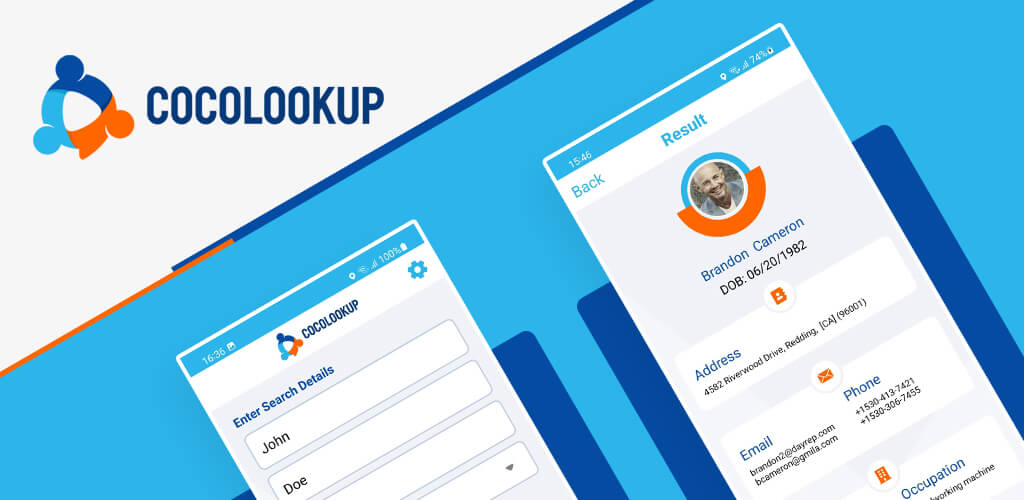 CocoLookup is a great tool if you want to search for an email address's location. All you have to do is enter the sender's email address into the search bar and the site will search its database for all the information it has associated with that email address. This is an effective way to get a lot of information fast.
You can use this to get quite a bit of information about the individual sending the email. You'll be able to pinpoint whether it's a scam, or if it's a legitimate business. You'll also be able to check out some information about the person the email address belongs to. You might be able to get current information if you think the email you have is no longer being used.
CocoLookup has a credit-based system, whereby you buy tokens and spend them on your lookups. You can buy as few as 10 tokens for $19.95, or as many as 50 for $49.95. Some people prefer this to a subscription system, as they only want to use the tool briefly and don't have any long-term use for it.
To find out more, check out the site today and try entering an email address you want to know more about.
Method 3: Use the Email Search App – Number Tracker Pro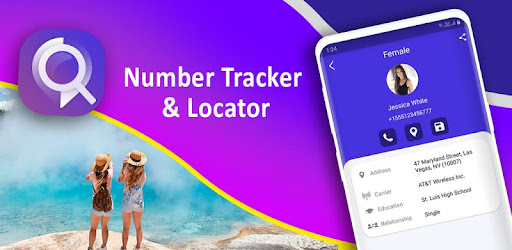 Number Tracker Pro is another great option for looking individuals up by email address. All you have to do is click on "Email lookup" and you'll be able to enter the email address into the search bar and check it out. It searches a vast database to bring you as much information as possible.
If the email address is in their database, you'll get information like the individual's phone number, name, address, and even their occupation. It's quick and easy to do this, and the tool uses multiple databases to increase the chances of the information being accurate.
There are other ways to look people up too, including by phone number and by their name. This makes it easier to cross-reference information.
Number Tracker Pro has a clear pricing structure and a subscription model. You can buy 10 credits per month for just $9.95, making each search cost less than $1, or you can buy 50 credits per month for $29.95, which cuts that cost almost in half. You can change or cancel your plan if you need to.
This structure is cheaper than CocoLookup's options, which makes it more attractive to some users.
Check out the site for more information, or download the app to try it today! It's quick, easy, and not expensive.
Method 4: Tracing Email Address Owners with LinkedIn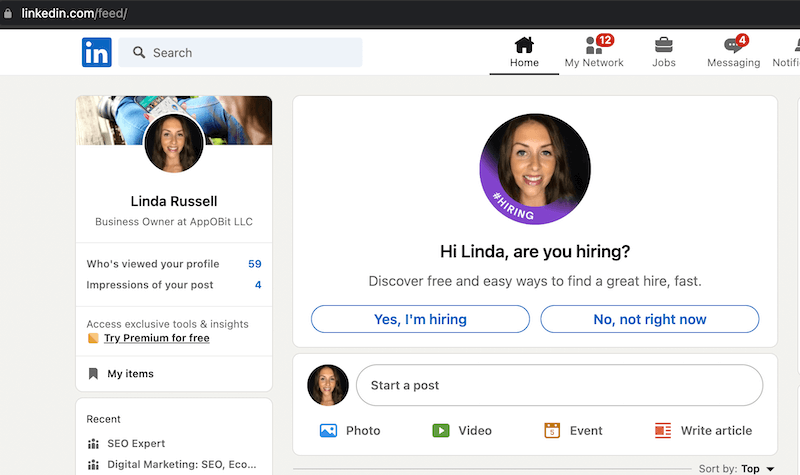 Another way to find out who an email belongs to is to use social media and search engines. Sometimes, simply entering an email address into Google will bring it up, especially if it belongs to a company and is available on a public website. This can be a good way to verify if you've been contacted by a legitimate business.
If you've got a business name, you can also search for their website and go into their "contact us" information. If they have an email listed, you can compare this against the one you were shown.
You can also lookup email addresses on Facebook and Twitter. To search for an email address on Facebook, simply enter it into the "search" bar, and then select "people." If somebody has their email address listed publicly, it should come up in this search.
Finding an email address on Twitter can be harder, as most people don't display it publicly due to the risk of spam. However, you can try searching for the email address in the main search box. If somebody has activated the option to look them up by email, their name will appear here. This method has a fairly low success rate, but it can work.
You can also look up individuals on LinkedIn by searching for their email addresses in the "search" bar. LinkedIn will display anybody who has this contact information on their profile. You can then find out further details about them.
Conclusion
Getting an email from an unknown source can be frustrating and alarming, especially if you aren't particularly computer-savvy and you don't know who might be messaging you. If you're not sure whether an email is legitimate or not, checking out the IP address can give you lots of useful information that will help you figure it out!
There are lots of other reasons for wanting to look up email addresses too. If you're going on a date, for example, you might want to look up the email address of the person you're going with – you can learn quite a bit about them and whether they're legitimate or not!
You may also want to double-check whether an email that appears to be from a business is actually from that business, and these tools will help with that as well. If an email address has a wildly different IP from the one you expected, there's a high chance that the address belongs to some kind of scammer.
Understanding IP lookups is a key way to keep yourself safe in the online world, and it's such a simple thing to do that there's really no reason not to! Use the tools listed above to help yourself get more information and protect yourself digitally.